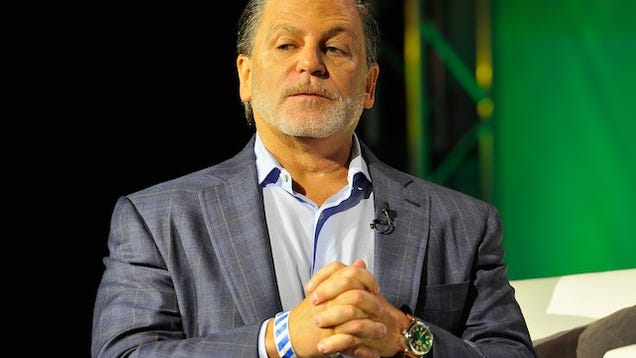 Dan Gilbert's Going To Fuck This Up Again, Isn't He?
...
It seems inevitable. Gilbert, owner of the Cavaliers and a scummy person in general, famously vented his spleen in Comic Sans when James left for the Miami Heat in 2010. For the fun of it, recall how insane it was for an NBA owner to post this shit on his team's website:

You simply don't deserve this kind of cowardly betrayal.

You have given so much and deserve so much more.

In the meantime, I want to make one statement to you tonight:

"I PERSONALLY GUARANTEE THAT THE CLEVELAND CAVALIERS WILL WIN AN NBA CHAMPIONSHIP BEFORE THE SELF-TITLED FORMER 'KING' WINS ONE"

You can take it to the bank....
...
Even with all the half-jokes that James already acts as the player-coach-GM, canning a guy who he likes working with creates unnecessary drama (especially if, as ESPN reported, Griffin was let go in part he was demanding a raise to be paid in line with his GM peers). Gilbert, a sensitive penis, doesn't historically do well with drama.
http://deadspin.com/dan-gilberts-going-to-fuck-this-up-again-isnt-he-1796264679
As Dan Gilbert goes back to being Dan Gilbert, LeBron James learns consequences of forgiveness
LeBron James forgave Dan Gilbert. The last three years of Cleveland history — not just Cavaliers history, and not just Cleveland sports history — don't happen if LeBron doesn't forgive Gilbert...
The championship run has its roots in forgiveness, and it started with the prodigal-son player forgiving the hair-trigger owner, for getting into his feelings, letting his petty fly and raising the bar for all time on sour grapes. For a knee-jerk reaction that made a city of jersey-burners seem measured and reasonable.
It only took three years for everything to return to normal in "Believeland," though, that being a buffoonish owner doing buffoonish-owner things. And as carefully as he worded his reaction to Gilbert running off general manager David Griffin, at this time and place and after this run … LeBron James knows it.
He trusted the wrong guy. He told himself Dan Gilbert being Dan Gilbert wasn't going be that bad, and now he knows that that's always going to be bad, even when things are good.
...
[Gilbert] was just another rich guy who was lucky to have a local hero fall into his lap — twice.
This is Dan Gilbert, then, now and forever.
And James should have known that then.
To be fair, he probably did. He likely still does. But he swallowed deep, grinned hard, and essentially said, "I'm letting bygones be bygones. What's done is done. The past is the past." ...
Specifically, this is what LeBron James said in his famous "I'm Coming Home" letter, two years 11 months and nine days ago: "I've met with Dan, face-to-face, man-to-man. We've talked it out. Everybody makes mistakes. I've made mistakes as well. Who am I to hold a grudge?"
...
James chose to go back to work for that man...
http://www.sportingnews.com/nba/news/lebron-james-nba-free-agency-rumors-cavs-news-owner-dan-gilbert-gm-david-griffin/1rcrxx82twz9v10i55x5eeur4w
...
Do you get the sense that something is wrong and sadly out of whack with the Cleveland Cavaliers?
I do. They haven't lost LeBron James — not this offseason — but it's very possible they have lost their pulse . . . lost their soul . . . lost their way.
...
...it's not unfair to wonder how long the Cavaliers will be standing.
...
Remember Dan Gilbert's "open letter" to Cavs fans in response to The Decision?
Let's see, there was something in there about how "our former hero, who grew up in the very region that he deserted this evening, is no longer a Cleveland Cavalier."
Gilbert pointed out that LeBron made his announcement following "a several-day, narcissistic, self-promotional build-up."
Gilbert showed he'd have made a pretty bad sportswriter because he buried the lead when he told Cavs fans, "You simply don't deserve this kind of cowardly betrayal."
...
A year ago, the Cavs held off the Warriors in the NBA Finals...One year later, the Cavs get blown out by the Warriors, the GM gets the gate, and the owner who once lambasted LeBron's "cowardly betrayal" doesn't bother to consult said coward about the move.
And now comes a report in the Chicago Sun Times that Cavs star Kyrie Irving might force a trade next summer if LeBron opts out.
Lost. Their. Soul.
http://www.bostonherald.com/sports/celtics/2017/06/buckley_cavaliers_are_losing_their_way_opening_the_door_to_the_east_for_the