There is only one.
There's the billionaire businessman.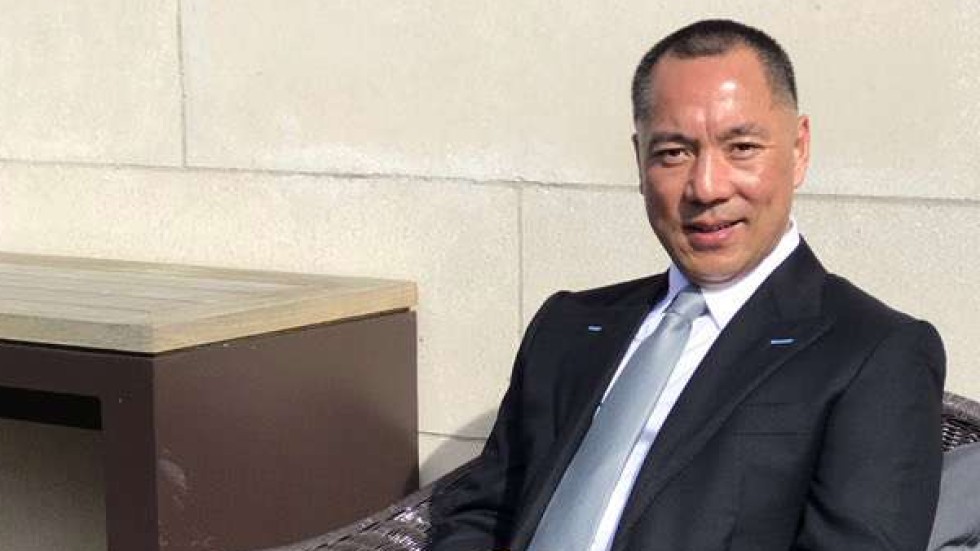 Movie-star handsome, too. Never saw a native-born Chinese look so non-Chinese. If I saw that mother-fucker on the street, it would never occur to me that he was native Chinese.
Native gay, perhaps.
Perfect for American audiences. Comes with built-in Anglicized aka, Guo Wengui alias Miles Kwok.
Accused of corruption, of course. Is an expat now. Seems to have taken some of it with him. $68 million Central Park apartment
and
a Mar-a-Lago membership. But here's the twist on this classic theme: Guo fired first. Accused Zhongnanhai (via Twitter of course. Gotta update these classics!), particularly Wang Qishan (need to give him a normal name, too.), the
anticorruption czar,
of guanxi. The Center went full-Chinese on him and boomed back with their heaviest artillery. Chinese are not wedded to the truth, they don't even seriously date (it's more like a Tinder hookup) and the Z's knocked huge holes in Guo's weakspots.
But then something unexpected happened. China stood down. The state media campaign against him tapered off. In mid-May, Mr. Guo announced on Twitter that his wife and daughter — previously barred from leaving China — had been allowed to visit him in New York.
Ex-Quasi's
That's different! They stopped firing :o Didn't demolish the house of Guo. Apparently found some of it well-reinforced instead. Uh-oh, Wang, BIG frowny face for Wang.
Now, it can't be The China Scandal without murder-most-foul and a little Chinese nookie thrown in, right? So we have a 2008 subplot of Guo getting a sextape of a Beijing vice-mayor and we have Guo's brother being shot by the People's Liberation Tiananmen Massacre-ers.
Yes, it's dense, it's Chinese! Like its predecessors the amount of detail will cause some American eyes to glaze over but the tropes are comfortingly familiar. The China Scandal brand is timeless, a demonstrated success. This will be too. Two thumbs up.