The great Vincent Kompany. That is at least a couple year's frustration unleashed there. The City captain had appeared in only five matches this season due to injury. He scored the first goal, the game-winner, today.
Most City supporters will name Vinny Kompany as the player most valuable to the club since the Manchester Revolution. He has been the defensive anchor of the club since, and more, its spiritual anchor. Kompany was named captain after Carlos Tevez went AWOL in Munich in the 2011-12 season. He kept that madcap, nerve-frayed, wildly talented bunch, it included Mario Balotelli, tethered together, even after manager Roberto Mancini said its title chances were "finished." Vinny scored in the epic QPR finale that won City the title on the season's final day, releasing a cathartic frisson I have never experienced again in my life.
As a defender of course, Vinny never scored many goals but damn if he didn't sometimes at the times when it absolutely saved Manchester City. While looking for an image of today's goal,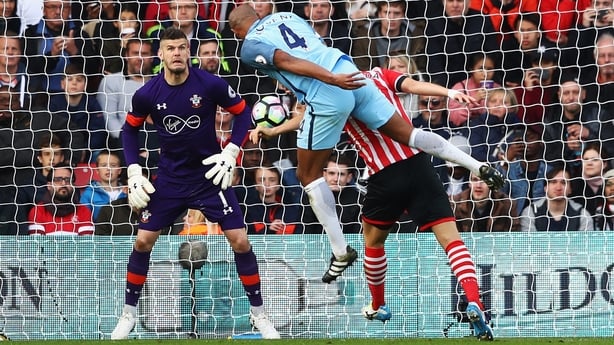 I came across this one:
It's the same goddamned play. A header off a set piece. Odds are it was set up, as was today's, by a corner kick from Silky David Silva. That was against Manchester United in the city in 2012. Vinny is tall, Vinny is strong, Vinny can out-leap red devils of any stripe at a single bound.
Look at the "Buccaneer" on the right. "A shot rang out and the president slumped onto Mrs. Kennedy." Vinny scored the only goal of that match in the 1-0 City win. That was the team right there. Tevez behind Kompany and in DEEP background, to the left of the assassinated "Buc," Sammy Nasri. Silva, Balotelli, Aguero, Joe Hart, Yaya, at far left in in first image, Joleon Lescott, at far right, Edin Dzeko. Others more. What a team. Earlier that season they had gone to the 'burbs and destroyed United 6-1. That was the team, captained by Kompany, that won City the league in 2012 and nearly caused a nervous breakdown in me and my kids.
So, if today's goal against Southie is Vinny Kompany's last as a Manchester City player, it will have been like that other, and others more, a game winner, and vintage Vinny.